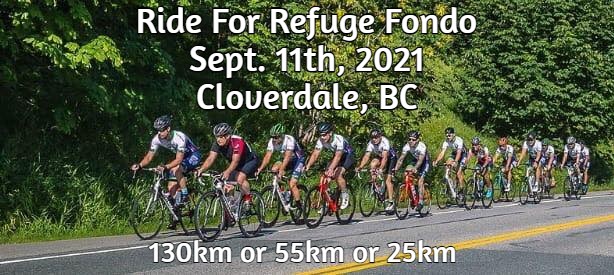 On Saturday, September 11 we are hosting the Ride for Refuge Fundraiser! Join us!!
______________________________________
Choose a route and mark the date on your calendar!
______________________________________
(Contact 778-617-3000 if you need help with sign up!)
______________________________________
We have 5 great routes to choose from!
Grand Fondo 130km - Cloverdale - RFR 2021 - Bonus Route - MapMyRide
Grand Fondo (short cut) 107km Cloverdale - RFR 2021 - Bonus Route - Short Cut - MapMyRide
Medio Fondo 55km - Cloverdale - RFR 2021 - 55km - MapMyRide
Corto Fondo 25km - Cloverdale - RFR 2021 - 25km - MapMyRide
Family Friendly Mini Fondo 10 KM
______________________________________
If you aren't able to ride with us - you can still donate to help us provide a better tomorrow for our community! DONATE HERE!
CLOVERDALE COMMUNITY KITCHEN
TUCKED AWAY IN THE HEART OF CLOVERDALE
5337 180 Street
Surrey, British Columbia



HELPING US HELP OTHERS
Food banks tend to see a significant decrease in non-perishable food and monetary donations in the spring and summer months. And that is the situation for our Fraser Valley Regional Food Bank! That is why we are launching our new My Community Cares Campaign.
The My Community Cares Campaign is a way for local businesses to help collect food and monetary donations for the Cloverdale Community Kitchen. All you need to do to help is to commit to one week of in-house fundraising at your business. We will give you a campaign kit filled with all that you need to collect donations from your employees and clients. CHECK IT OUT HERE!

FRASER VALLEY REGIONAL FOOD BANK
We are here for our community! Our Fraser Valley Regional Food Bank is open on the following days/times:
Mondays 5 - 6:30 PM
Tuesdays 1-2:00 PM
Thursdays 10-11:30 AM
Saturdays 10 - 11 AM
Closed Statutory Holidays.
New registrations will be taken on site during those hours. Please bring photo ID, proof of address and proof of income if you wish to register.
For more details, CLICK HERE
CLOVERDALE COMMUNITY CYCLES
Our Cloverdale Community Cycles is well under way and we are getting busier by the day!
We repair bikes for those in need. We repair bikes for anyone in the community for a donation towards the bike shop. And we take donated bikes in any condition. The Cloverdale Community Cycles is located at 5337 180th St, Surrey, BC. Call Joe Viel at 778-617-3003.
If you would like to donate to the Bike Shop, please CLICK HERE!

WE APPRECIATE YOU
We want to acknowledge YOU...and thank each and every one of you who support the Cloverdale Community Kitchen! You are an amazing part of the services that we provide to our community - we could not do what we do without you!
The need continues to be great and we remain open (covid safe) as we support and care for all those in our community. THANK YOU for your continued generosity - YOU are helping to make a huge difference!

READ MORE HERE AND FIND OUT HOW YOUR DONATIONS PROVIDE FOR OUR COMMUNITY!
MOBILE MEALS
HOT, NUTRITIOUS MEALS DELIVERED TO YOUR DOORSTEP
Cloverdale Community Kitchen (CCK) is thoroughly enjoying serving YOU, our community, with our Mobile Meals Program! Fresh, hot and nutritious meals delivered to your doorstep Monday through Thursday.
CALL US at 778-617-3000, ext 2 or EMAIL US at [email protected]
SIGN UP TODAY FOR AS LOW AS $5/MEAL For all the details CLICK HERE!

VOLUNTEERS NEEDED
CAN YOU BE THE PERSON WHO MAKES A DIFFERENCE?
Cloverdale Community Kitchen is always on the move! Our world continues to change so quickly around us and as it does, we are made aware of more needs than ever before! We have several volunteer opportunities - and if you can help out, we'd love to hear from you!
Click on the image to find out more!
Join our mailing list - stay informed!